Tutorium
Around the world
A short trip to the Far East with a packed schedule.
In September 2019, I had the opportunity to support my professor in Shenzen at a workshop. Together with 9 other fellow students we developed generative logos. However, working was not the only thing on the schedule. We were also invited to several events.
Back
The year is 2019, when the world was still okay and no deadly virus put us in a complete lockdown for almost 2 years. Sometime in early August, almost a month before day X - the day of departure - a fellow student contacts me. Unsuspecting what was coming up, I replied to his message.
Hey Niklas, do you have time to fly to Shenzen in 3 weeks with our professor, me and other students?
"Excuse me? I don't even know where Shenzen is and I'm supposed to fly there in 3 weeks?" I replied to this message sounding like a too late April Fool's joke. "Yes, the professor asked me who else could come along and you immediately came to mind! So you're in?" the fellow student replied.
After a short exchange of messages it was clear: either I decide to go for it now and have to organize everything in the remaining weeks that you usually do in a year or I regret forever that I did not take this once in a lifetime chance.
"I'm in!" I wrote as naively as I was. Unsuspecting that now the German bureaucracy has smelled my spontaneity and is already feasting on my time pressure and the resulting despair.
Long story short. A few days before departure, I received my passport by express delivery. It cost me a lot - especially nerves - but I went to Shenzhen.
Hours and hours passed while my fellow students and I tried to position ourselves on the too narrow seats of the plane so that a reasonably comfortable sleeping position was possible. Above the clouds we lost all sense of time. Was it the middle of the night? Or was it early morning already? I only remember that we landed in the middle of the day. With rings around our eyes all the way to the ground, we all caught sight of the gigantic city of Shenzhen for the first time.
With that, our goal of reaching the university was not yet fulfilled. Since the university was built outside of Shenzhen, we drove there for several hours with a bus organized for us. Until we finally reached our destination.
What we had not expected was this extremely warm welcome from the local people!
Completely tired, we got off the bus after our trip and were greeted like I never expected. With a huge BBQ, photographers and a show, we were warmly welcomed to the university in the evening. Here we got to know the other students and exchanged ideas about all sorts of things. All fine, but the very first beer in the evening under the open sky with all fellow travelers was my personal highlight of the day.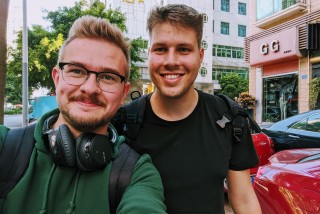 The following week, the workshop began. In small groups, we created a generative logo together with students from the university. As an explanation: A generative logo changes based on parameters such as weather data or time of day. This changes the color of the logo or its shape, for example. The boys and girls were then asked to reinvent the Shenzhen Technology University logo in the workshop.
And that worked out pretty well! We were able to define different parameters and create first sketches on the first day. In the evening we went to a "high table". Wrongly dressed with jeans pants and a black shirt in between suits but still, it was awesome! Five course menu and every little thing was toasted, exactly my vibes.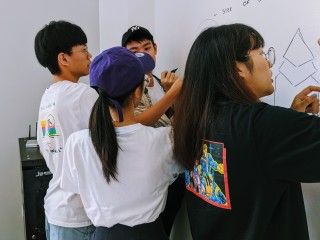 8:30 a.m. - not my time at all, but it had to be. Together with the students we went into the next phase. The first actual logos were created and presented to the large group. You could tell that the feedback was pretty important, because new ideas came up and could be worked in directly.
Heads up: the next section involves a Bavarian night according to Chinese ideas.
The sun is setting and the sky is turning red. A familiar but strange sound hits my ear. I know the language, but somehow it sounds strange. I approach the modified sports field. A flag patterned in blue and white is waving in the wind. I have arrived in my personal cringe hell. A Bavarian night. But let's skip the dramatics for now. It was perfectly okay. There were even extra cooks flown in from Germany to cook typical Bavarian food!
The last day of the workshop. Of course, it had to be stressful again. Just before the deadline, many things were changed and rethought. Otherwise it would have been too boring, right? But everything worked out, we didn't die and were able to take a group photo together at the end.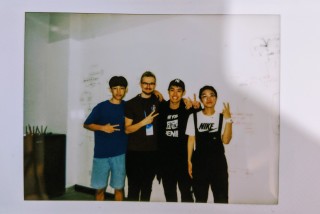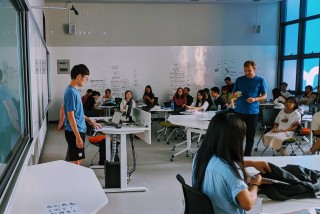 So this is it? Didn't you do more in Shenzhen? Sure we did! Thursday was the end of the workshops but on Friday there was a final show. Light show, singing and dancing.
I have to say, it was only a few days that I was there, but we have experienced so much that could have been packed into three weeks.
After the official closing, we still had more to do. Outside the fancy university, there was also another side. Here we were able to talk to the students of the university clearly. How you really like it at the university. I was surprised what they are willing to sacrifice for the university. Family and friends several kilometers away. A lot of studying and strict separation of male and female. And five cameras on every streetlight.
That would be too much for me - we still walked through the side streets of the surrounding settlements then made our way to our rooms.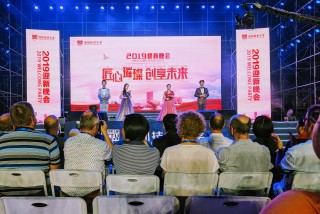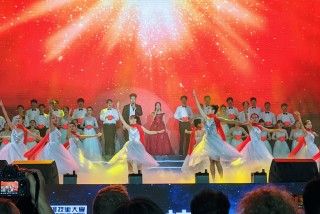 Saturday, last day at the university. A short but painful goodbye. Sure, we were only there for a few days, but still, you kind of took the local people to your heart. But our trip was not over yet. In Shenzhen itself, we visited Huaqiangbei. The largest electronics market in the world. On countless floors, row upon row, trader followed trader. From solder to the smallest electronic parts to entire drones, the clever hobbyist can find everything.
Fun Fact: A lot of the stuff ordered from AliExpress actually came from here. While we were wandering through the store, you could see the sellers permanently packing packages.
I think what stayed with me was working with the students at the university. It was a lot of fun to just chat and listen to people's stories.
I could probably say that the short trip has changed me personally, but this was not the case. I just enjoyed the time and even after 2 years I still like to look at the photos from that time.