Sidetable
3D built object
Design of a side table for the living room created with Autodesk Fusion 360.
The side table is the result of my final project of the module "Mechatronics for designers". The task of the module was to create a design in Autodesk Fusion 360 that includes a movable component. The component is freely selectable. The only restriction was that the design must be physically possible.
For this project I chose a side table that should be both compact and functional. The dimensions are based on the shelf of a KALLAX. Thus, the table can be easily dismantled and stored.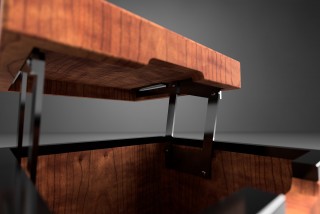 Great work! Especially the renderings are really nice! Makes fun to look at. The model is very nicely built and you have included all the details of screws, sheet metal parts and joints.
Florian Born
role
construction, design
software